What is the cheapest month to fly to Thailand?
The cheapest month to travel to Thailand is during the off season or low season travel. During May and September seems to be the cheapest flight rate. However, in each country the flight ticket price varies by different countries.
Starting to know when is low season, high season and peak season for Thailand vacation.
Thailand has a tropical climate with roughly three seasons:
– Hot (March to May) – Less visitors come during this time.
– Rain (May to October) – There is more rain and monsoon in the southern.
-Cool (November to February)   – This is the best time which is nice and cool weather.
What is the cheapest month to fly to Thailand?
Regarding to static of Cheapflight.com. This is an comparison ticket price from different countries and temperature in each month. And what is the average price of each month and suggestion of how many days in advance that you should make reservation of your flight and trend to get the  special discount. Beside that this table can help you plan your travel time that you can get a lower ticket rate.
Month

Temperature ©

Rainfall (mm)

Australia

AUD

South Africa ZAR

Qatar

QAR

Singapore SGD

Canadian

CAD

UAE

AED

Hong Kong

HKD

USA  Honolulu (USD)

January

32

25

953

9393

2377

193

1056

1821

1843

672

February

33

27

740

8289

2359

213

990

1810

2321

642

March

33

44

723

8261

2153

200

910

1829

1741

680

April

36

74

840

7995

2031

217

990

1832

2016

770

May

35

149

709

7520

1944

189

1058

1439

1780

769

June

33

170

858

8471

2294

213

1275

1729

1780

771

July

33

170

842

8093

2344

188

1518

1957

2031

657

August

33

200

737

7674

2738

197

1381

2166

2000

698

September

32

300

776

7254

2056

179

1030

1575

1757

731

October

32

275

723

7352

2034

186

1053

1612

1764

761

November

32

47

746

7674

2175

211

982

1421

1623

800

December

31

10

1,120

11322

2489

286

1506

2008

1953

753

Cheapest day to fly

 

 

Tue, Mon

Wed, Sun, Tue

Mon

Mon, Sun

Tue

Sat

Tue

 

Cheapest tome to fly

 

 

At mid night

Evening

Afternoon

Evening

Afternoon

Midday

Midday

 

Peak Day

 

 

Sat

Sat

Tue

Fri

Sat

Fri

Fri

 

Peak Time

 

 

Evening

Afternoon

Morning

Mid day

Evening

Evening

Evening

 

Advance booking 

 

 

30-60 days save cost 27%

30-40 day, save money up to 22%

50-60 day, save money up to 32%

30-60 days, save uo to 25 %

50-60 days, save money up to 25 %

50-60 days, save money up to 35 %

50-60 days, save money up to 20 %

 
Australia Air ticket price to Bangkok
South Africa and average air ticket price to Thailand
South Africa and average air ticket price to Thailand
Singapore and average air ticket price to Thailand
Canada and average air ticket price to Thailand
United Arab Emirates dirham and average air ticket price to Thailand
Hong Kong and average air ticket price to Thailand
Plan to book tickets in advance for lot of saving
Spending less in flight fare is around 30-40 % of vacation expenditure, therefore save up around 10-20 %, it is a big saving which means money for your next trip, spending more in food, upgrade hotel , going to spa for relaxing or  reservation for a fine dine with your love one.
Period of making air ticket booking is highly related to the airfare too
From the table above, one can get 15-30% off airfare, if made an advance booking around 30-60 Days.  We recommend setting the date of travel. Then go to airline booking platforms such as cheapflight.com , kayak.com, and expedia.com, then check the flight every day until you find the right price. However, please do not forget to delete COOKIE in your browser too, otherwise the more you check the ticket rate, the higher price you will get.
Travelling time is also matter for air fare
People in different countries have a preference on travel time differences. It reflex to different peak period of travel too. AtArab country peak travel time is Friday in the evening. Australia, New Zealand and Canadian prefer to travel on Saturday.
Avoid peak period of travel time, it is a good chance to save you buck.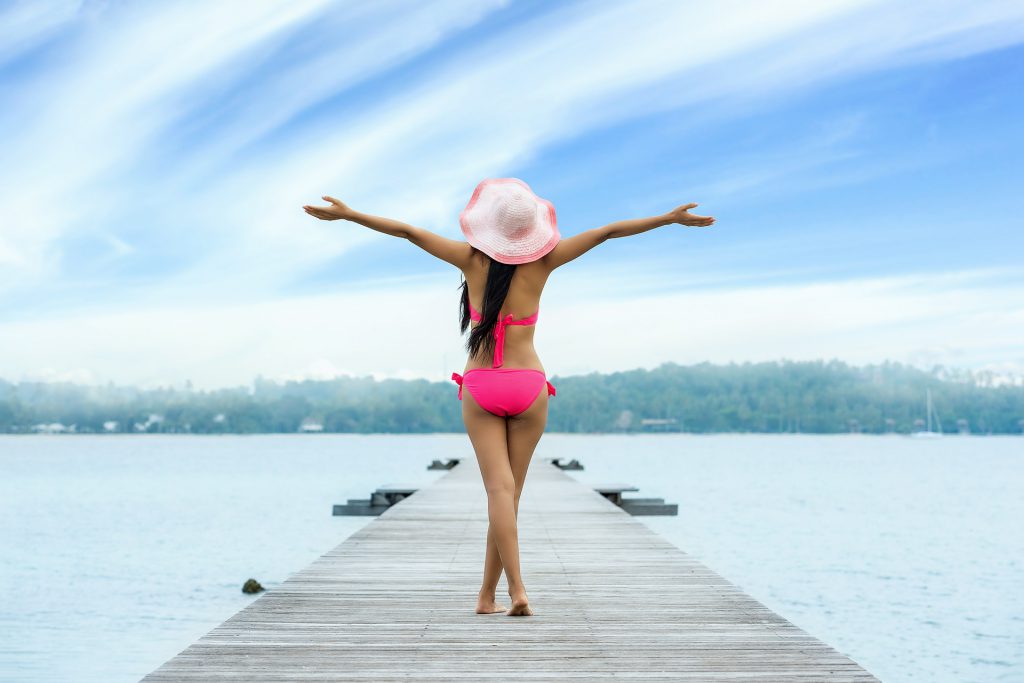 Why Weather And Rain Fall Is A Big Deal For Your Thailand Trip?​
Weather is a matter for everyone who go for vacation. Come on, Thailand do not have three season. We only have 2 seasons only.  It is very hot and dam hot. Hahaha . It is a joke that made everyone laugh. In fact, you can see weather is almost not matter . It is a little different in each area and all year round.
Rainfall is more matter that people concern. It is not raining all day long during raining season. And it is no guarantee that if you come during the cool season there will be no rain.  Is it a better idea that how do you have fun no matter whether it rain or not? So stay tune with us and find out what can you do if travel to Thailand during the month that you acquire the cheapest air ticket.
What is the cheapest month to fly to Thailand and what to do during that period?
As you can see that low period fall in different months, the next questions are that do that during that period?
The cheapest month is March, May, September, and November.
November is a good month, which is already high tourist reason already. Visit Phuket, Phi phi island and Krabi are nice. Meanwhile, Chiang mai, Chiang rai and Mae Hong Son are starting to enter cool season. The only area that you must be careful is Samui island, Phangan island and Koh Tao which is in monsoon period.
March is starting to enter warm period. You still be able to visit beach destination such as Phuket , Krabi and Khao Lak. The highlight is Surin island and similan island which is a marine national park that open only during peak period. We do not recommend visiting Chiang mai or some cities in the north due to many year records that the pollution is a bad issue there.
May and September are falling in monsoon period. Going the Bangkok, Chiang mai, Kanchanaburi (river kwai) , and Pattaya are a good time for get good breath , and greenery from rice field.
What to do in Thailand during June?
Be careful with the terms and conditions of air ticket during booking
To get a special discount can make many traveller happy. But I just want to remind you to make sure you are accept with terms and conditions. Most of cheap ticket is not flexible. It is better to keep this in mind before press book it now.
Hope you enjoy reading. If you find this helpful. Please help us spread the word and do sharing this article.