Many visitors add beach for the last relaxing place before going back home. But where to go? Is it going to rain all day or night?
          It is very frustrating to select a beach destination for the visitor as well as select destination for my customer.
Example questions about Thailand Beach vacation that I always here?
-Is it worth to visit Hua Hin?
-Is it going to rain all day?
As a tour operator I cannot tell. But what I can tell is this is a monsoon season it is highly rain during that time.
So I get this idea why not write about select Thailand beach vacation destination guideline so I can answer the questions from this page in every area that people concern.
– Thai weather and monsoon
-Suggest a Thailand beach travel destination by month. Where should I go if I come in this month?
-What is the main highlight in each beach destination?
-Recommend beach near Bangkok
Thailand has 2 types of monsoon that which is a major influence in weather.
Northeast monsoon : The wind blows from China and bring dry and cool air cover the north, northeast and center part of Thailand, which is in cool season which is around  November to February. When the wind travels to the south of Thailand or the Thai gulf it rain in the area.
Southwest monsoon : the wind blows from Indian ocean into Thailand, which make the rainy season in the southwest of Thailand.
Eastern ocean or on the gulf of Thailand
             From Bangkok, Bangsean, Pattaya, Koh Lan , Koh Samed, Koh Kood, Koh Chang and Chantaburi can travel all year round. But the best time to visit is December to March. This is a time you can get to enjoy clear water, and blue sky.
High season :  December – March
Low Season : May – October
Hipster zone  on Thai gulf on the west of Bangkok
Start from Cha Am , Hua Hin, Pranburi is similar to upper eastern of the ocean. The best time to visit is January – April .
High season : January – April
Low season : June – October
Southern of Thailand on the gulf of Thailand
This area are includes Koh Samui, Koh Phangan, Koh Tao , Suratthani and Nakhonsithammarat which has a perfect weather in May – September . When it rains, the water will not clear so it is not so pleasant.
High Season : May – September
Low Season : December – February
West ocean in Amdaman Sea
The famous destination is included Phuket, Krabi , Similan , Koh Tachai, Koh Lipea, Trang, and Ranong which start from November to March . Then the southeast monsoon comes it will be time that you should stay away from this area.
High Season : November – March
Low Season : May – October
Suggest a Thailand beach travel destination by month. Where should I go if I come in this month?
Each month by month which island or beach city that should visit
Andaman sea has no monsoon. The ocean is pretty claim. So you will be happy to sightseeing at
There are
-Phuket
-Samui
-Pattaya
-Similan Island
-Surin island
-Krabi
-Trang
-Talutoa
-Khao Lak
Aou Thai  (Thai Gulf )or Andaman Sea which is in very good period that you can scuba dive in Pattaya , Sattahip, Samesan , and Koh Chang.
Good news that you can start to travel to Koh Toa, Samui and Chumporn.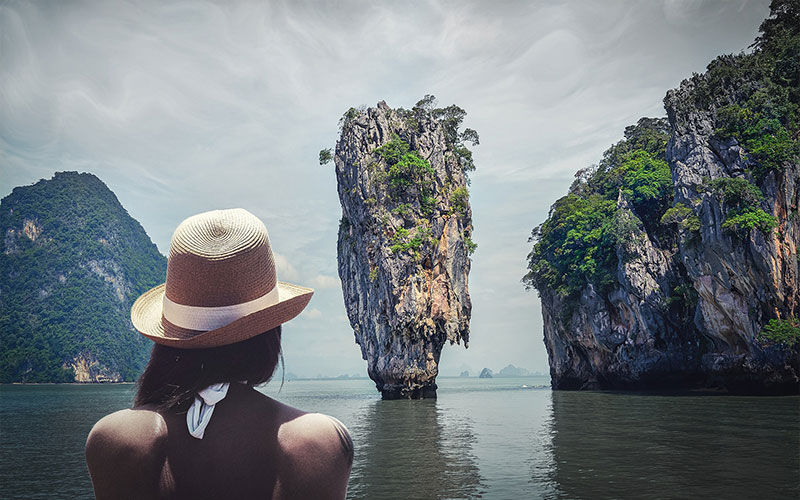 There is less wind power from China and you can travel every beach area
Andman ocean, I recommend to visit Similan and Surin island and see Hin Dean and Hin Muang to see soft coral . Visiting Phi Phi Island, Trang , Koh Ngai, Koh Mook, Koh Krandan, Koh Rok, Koh Ha, Talutao, Loa leang, Adang, Rawee
Aothai or Thai gulf which is including Koh Tao, Koh Nangyuan, Koh Samui, Koh Angthong, Pattaya, Sattahip, Sameasan, Koh Samed, Koh Chang, Koh Kood.
In the middle of the month, the western wind start to the west coast of Thailand. Big wave and strong wind flow spread over the southern peninsular of Thailand, which is not recommended to visit Similan and Surin Island.
Southern Andaman such as Phuket, Phi Phi Siland , Trang and Talutoa still be able to visit
Ao Thai or Gulf of Thailand
The low pressure trough lies across the lower Gulf of Thailand Causing sporadic rain And some waves in the sea but it is no main effect to travel to Koh Samui, Koh Phangam, Koh Tao, Chumporn or upper part of the gulf of Thailand such as Pattaya, Sattahop, Samsarn, Koh Samed, Koh Chang and Koh Kood.
.
The western monsoon wind blows into the Andaman Sea. At beginning of the month still be able to scuba diving in Simlan and Surin island, but in some day may encounter high waves and the low pressure grove may cause a tropical typhoon which may move till Vietnam which will cause some rain in the northeast of Thailand but it no effect on the middle and upper city on the gulf of Thailand.
Recommend to visit Koh Samed, Koh Chang, Koh Kood, Kogh Tao, Koh Nangyuang.
Highlight that not many tourists know is Kong Hin Silosin (กองหินซิโลซิน) in Narathiwas province, which has mixed variety of underwater worlds.
The southwest wind attracts in Andaman ocean. It is better to stay away from Phuket, Krabi , Phang nga, Phi Phi island, Trang , Koh Li area.
It is recommended to visit the upper destination of the gulf of Thailand which is Pattaya, Koh Lan, Koh Mannok, and Koh Chang.
The southwest wind still effect in the Andaman ocean reflect to the whole country which is in rainy season.
It is best to southern beach destination in the gulf of Thailand , which including Koh Samui, Koh Tao, Koh Nangyaun and Anthong marine national park.
In some area such as Pattaya, Sattahip, Samesan may have strong wind, but still ok to visit.
The southwest wind stars to weaken but the Andaman sea high season is starting.
Good news, you still pay in low season rate if you visit Phuket, Krabi ,and Khoa Lak.
This period is good to visit, including Koh Samui, Koh Tao, Koh Nangyaun and Anthong marine national park.
The influence of the monsoon winds has gone, but may have some wind, which causes waves of 1-2 meters high during period of tropical cyclone which may affect lower gulf of Thailand, which not recommend to visit Koh Samui, Koh Tao, and the Khoa Nang yuan area.
But it is highly recommended to visit
Andaman Ocean  : Krabi , Phuket, Koh lak, Trang, Phi Phi Island , Koh lipe
Upper part of Gulf of Thailand  : Sattahip, Pattaya, Koh Samed, Koh Chang, Koh Kood
This is the nice time that you can visit the Andaman sea which is the best season for visiting Thailand.
Andaman Ocean  : Krabi , Phuket, Koh lak, Trang, Phi Phi Island , Koh lipe
When is the perfect time for Thailand beach vacation.
From December to March, you can visit the sea of ​​Thailand anywhere. This 4 months that is really suitable for beach vacation.
If you really concern about the weather, do check the weather forecast before making a plan.
Flag on the beach
There are flags on the beach which you should be aware off.
1 Red flag – A dangerous time to go in ocean
2 Red Flag – It is very dangerous to go to the ocean
Yellow flow – Swim in ocean with caution, highly recommend to wear a life jacket .
What is the main highlight in each beach destination?
I just want to wrap up what is main highlight and the thing to do of beach destination. It will be quickly look for making decision where to go.
Phuket
Take a Trip to a nice beach , recommend Kata Noi Beach , nice beach  to swim  , Nai han and Surin Island
Have a Tour of The Chalong Bay Rum Distillery run by famous high end produce white rum company
See the Big Buddha , a great view point
Visit local temple such as Wat Chalong
Shopping at Phuket town for weekend night market
Take a photos with real live tigers at Tiger Kingdom
Island trip to Phi Phi Island, Surin Island or Similan Island
Walking, drinking and dining at Bangla , wild night road
See monkeys at monkey hill
A trip to Phang nga bay , James bond island
Night show to see lady boy talent at Simon Cabaret or Phuket fantasia
Check the view at Khao rang viewpoint
Visit Juo Tui Shrine
Walking around Phuket old town
Help at the Gibbon rehabilitation project
Krabi
Feel the thrill with rock climbing in Railay Bay
Visit the Emerald pool and hot spring waterfall
Krabi is the gateway to Phi Phi Island
Wondering and explore sea cave at Koh Hong
Visit Muslim village in Koh Klang
Dining in the cave at Rayawadee
Find one evening for dining at local restaurants
Hope in for 4 island trips
Khoa Lak
See stunning view point at Wat Rat Upatham
Explore Takuapa old town – Sino Portuguese architecture
Chong Fah waterfall a nice scenic place
Visit Khao Sok National park
Swimming at Cheow Lan Lake
Very close to Surin and Similan Island, a paradise for diving
Trang
Cave lagoon called Sramorakot (Emerald cave)
Explore the cave at the Tham Tale khao kob and paddle a boat through a sizeable set of caverns carved into a limestone massif.
Enjoy the nature with treetop walking in the Thung Khai botanical garden
Check in and take a nice photo at the Kantrang train station, Tam Kong Yiea Shrine (ศาลเจ้าท่ามก๋งเยี่ย) , and Trang church
City sightseeing with colorful tuk tuk (นั่งรถตุ๊กตุ๊กกบชมเมือง)
Experience local food so call Moo Yang Muang trang (Grilled pork)
Koh Lipe
Koh Lipe is in the most southern island which is near Malaysia and well known as a clam ocean and crystal clear sea water.
Take a day tour travel, sightseeing around the island close by
Explore walking street for local food in the evening
Kayaking to see the beauty of Koh Hin Soon
City in Upper part of Thai Gulf
Pattaya
Lot of activities for family and friend such as Cartoon network, Nongnuch waterfall , Ripley's believe it or not
Observe wild night life at walking street
See the beautiful art and culture at the sanctuary of the truth (ปราสาทสัจธรรม)
Pattaya is a home of lady so why not spend a night to see the transvestite show
Swim at Koh Lan , Pattaya is very near Bangkok and take one day out of Bangkok trip to Pattaya is possible.
Sattahip is a beach belong to military and open for public to visit. This is a very nice long beach and not too busy during weekday.
Koh Samet
Koh Samet is one of the most popular destinations for beach relaxing for Bangkok people. It is not far and quality of the beach is good.
Koh Chang
Koh Chang is also a very nice place to stay if you like to enjoy sea, sand and Sun.
You can do a lot of activities.
Snorkeling trip
Visit the waterfall
Tree top adventure park
Scuba diving
City in middle and southern part of Thailand Gulf
Hua Hin
A charming beach town one the southwest of Bangkok which is just  3.5  hours away from Bangkok.
1.horse riding on the beach
2.Khoa Sam roi yod is a nice trip to see Palace inside the cave
Meet the monkey at Khao Wang Palace
Walking and visit Palace by the sea at Marukataiyawan Palace
Koh Tao
Koh Tao is well known and  the best snorkeling site with a lot of fish
Koh Phangan
Young people love parties. Party on the beach is more fun. That is why full moon party in Koh Phagnan is so famous.
But in Koh Phagan it is very serene and quiet place to enjoy the nature.  There are so many beaches that have no party and it is very nice and quiet.
Koh Samui
Koh Samui is one of my favorite island. Lets see what can you do at Koh Samui.
Explore the top view at the Angthong Marine National Park
Swimming at Na Muang waterfall
Walking and enjoy the meal at Fisherman's village
Take a trip to visit interesting attraction and Hin Ta and Hin Yai
Visit the secret Buddha Garden
Recommend beach near Bangkok
Most people may have a short time to stay in Thailand and would like to go for a day or two outside Bangkok for relaxing on the beach. So where to go? I would recommend.
Pattaya
This city is just 2 hours away from Bangkok. You can also easily to access Suwannabhumi airport. So it is one of the most convenience beach destinations to go
– Visit Koh Lan , it is possible to do it for a day
Bangsale is small fisherman village beach town outside Pattaya with a lot of seafood restaurant
Sattahip (Saikeaw beach) : the beach here is nice and not deep but no facility and decent restaurant . The beach is inside Royal army private area so you need to bring your passport or ID with you. By the way a lot of money in island
Hua Hin
Hua hin is 3.5  hours away from Bangkok.  Temperatures are very warm to hot throughout the year, with only small variations. Rains ease somewhat from June to August before the heavy rains begin in September and continue through November.  The year begins with the dry season (December–April), before the monsoon arrives in May.
Cha Am
Cha Am is 3  hours away from Bangkok
Ao Manao beach is inside the air force base and drive over a runway to get to it. You just have to sign in at the gate with your passport to get through. This is a nice and quiet beach that you can enjoy the sea.
How do you like our Thailand beach travel suggestion?  Do you get a better idea of where to go and stay? I hope you like it and find the information useful.  Finally lead you to the right selection. I know that some information of the destination seems short but I think it is better to give information of highlight. Then you can easily to find more information that valid on the internet.