There are things you can do with the baby, which you can visit sightseeing with baby stroller  which will make it easy to take them around.  You can go to shopping which have sightseeing inside that suit for the baby and you can also visit main attraction of Bangkok such as temple and palace.
Top concern sightseeing when you bring small baby
This article talks about travel with small baby. new born up to 3-4 years, which need highly attention when visit sightseeing.
Let's first consider what is condition that baby need ?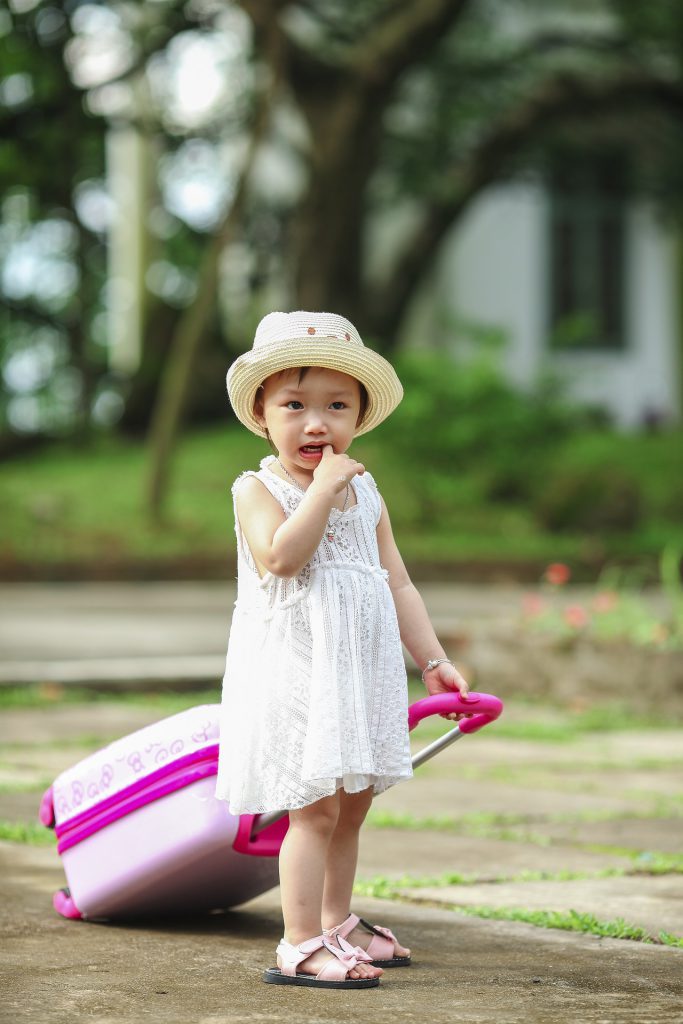 –  Bangkok and travel to a baby stroller friendly sightseeing

– Bangkok and travel to a baby stroller friendly sightseeing

– Bring buggy VS baby carrier and guide how to travel around

– Diaper changing facility is top concern for parents

– Preparation when travel with small kids
Bangkok and travel to a baby stroller friendly sightseeing
Let me think
         Shopping is an activity that always friendly with small kids and old people. But  I understand that you come to Bangkok and not expect to only shopping or walking around a shopping mall or visit just an aquarium. So there are certain things that you want to do such as see the culture, meet local people and taste local food when you come with the baby.
Let find out more.

sightseeing for parent who take a small kid
      I want to recommend sightseeing that is not too far from the city and take too long time on the road. Some parent may concern about the baby crying too much during the trip, if they stay in the car too much.
      The sightseeing in listing below are very easy to walk around and have good pavement or floor to use baby cart. 
Museum
MOCA contemporary art museum
This private museum owner is Thailand Taicoon name Mr.Boonchai Bencharongkul who spend at least 30 years collect the masterpieces of Thai art in his modern building. A series Thai contemporary art are well kept in this exhibition hall with over 800 pieces . Spend 3-4 hours to enjoy the beatification of artwork and see different levels of the influences from westerner art reflex in Thai painting from time to time. It is worth to spend time here, only the architecture of the museum is already amazing for most visitors from the first time step inside.     
Temple and palace
   Most temples and palace are good to visit with a small baby, you can use stroller once you get there.
   Personally, I do not recommend totake local transport to those sightseeing. Local transport such as local bus, local boat or walk will make kids and parent very tired and hard to enjoy the beautiful sightseeing. 
   Select 1 or 2 sightseeing in old city should be enough for explore city with small kids for one day.
Wat Arun
70-meter-high spire or tower is the main attraction which is very attractive to people who travel by boat or visit the old city of Bangkok. Go closer to the tower you will then realize that the colored glass and Chinese porcelain are decorated the tower and make it very unique.
The temple located on the river of the King. Going there by taxi you can get off at Ta Tean , then you can cross the river with ferry just for one minute.
Or
Go to Wat Arun directly by taxi.
Wat Pho
This is a beautiful temple through the complex, which is also a home of Thai massage. This is a marvelous place, even quite a lot of tourist visit every day. The Reclining Buddha is huge statue ,which is 46 meters lone, encases with gold leaf. There are various sightseeing that you can take a picture.
If visit Wat Pho during the day, do not forget to bring an umbrella or hat since it is quite hot. 
Grand Palace
The Grand Palace is the city's most famous landmark which is built in 1782.  It was used as a Royal Court, and the working place of the Kings and his administrator. So the building and architecture have been made as impressive resident and working place. 
Caution
The palace is the most busy sightseeing and take quite a long distance walk to get to inside to temple and palace compound. Visitor the palace with a small baby , you must bring stroller. 
Wat Suthat Wararmn and The Giant Swing
This is one of the oldest and most impressive Wat (temple) in Bangkok. It features an elegant chapel with sweeping roof, magnificent wall mural painting and Buddha statue surrounded the main hall.
This is a less tourist visited temple so not crowded at all which is very peaceful ambient especially in the evening time.
Once you visit the temple by car, it is just less than 50 steps you can reach the main chapel and can walk around the area very easy.
 Before leaving the area, you can also take a picture with another landmark which is called the Giant Swing. The stunning red , tall column in front of Wat Suthat and another side is Bangkok city hall.
Around this area is a Buddha statue market which is the only one in Bangkok . it is worth walking around the see it.
JJ Market or weekend Market
Visitors loves JJ market. Me to beside it really near my house. I know the area very well. So I think you can go to JJ market with your kids, but keep in mind it is very warm.
So I recommend to go to JJ mall which is totally cool with A/C. After 16.00 hrs, you can start to walk outside the shopping which will less heat than going there during the day time.
Sightseeing for small babies
Funarium
    Funarium is a nice indoor playground located in Sukhumvit 26. The playground is well organized and manage to clean toy, and equipment for 2 times a day.  The area is separate to 4 areas.
Small baby up to 4 years old. Baby can crawl and play small slider on the soft area.
which should be an ideal place your baby.
Cr.  funarium
Sea life Bangkok       
       Travel to Bangkok ocean world aquarium to meet various ranges of marine life. More over 400 species which is over 30,000 marine live  here, which are included sharks, stingrays, fishes and colorful coral . Over 6 zoning which has various ways of interact with surely kids will enjoy the time with it.
Safari World Bangkok
Various types of entertainment are here. In marine park, various animal shows life elephant shows, cowboy stunts and Orangutan shows are interesting. The highlight is for feeding the giraffe. If you can reach here in the morning, you can visit Safari park and drive through. If you reach there by 10 am, you get to view the lion and the tiger feeding which is an awesome experience. You can also see animals in their natural habitats. There are innumerable numbers of migrating birds. 
Harberland  at Mega Bangna
       Theme park insides big shopping mall at Mega Banga that feature for family playground complex. There are 5 zones.
         1. Harberland with indoor play ground consist of Giant Beanstalk slide, Banana Free floor slide ,

         2.Roller Lan

        3. Lase Battl

        4. Jump

        5. Motor city
Bring buggy VS baby carrier and guide how to travel around
       If you chose to travel around by local transportation such as sky train, boat and bus. Use baby carrier may convenience, but down side is the Bangkok climate which really warm. Therefore a long walk may cause uncomfortable for kids and parent.
      Bring buggy or baby stroller is better when walking a lot and event all pavement and sightseeing  in Bangkok are not in perfect condition but it will more convenience
       Baby seat request, you can request a baby seat when travel with a tour company. Some tour operator are be able to provide this, especially when travel with private trip.
Diaper changing facility is top concern for parent
Shopping Mall, Grand palace and hotel have a very good facility for a parent to change diaper.
What if travel outside those areas?
You can use the easy to change disposal diapers, which should not be a big problem.
Preparation when travel with small kids
I know that professional mom and dad know well how to handle their kids. This area, just want to tell some checklist to remind what you need to prepare.
        1. Food for baby or toddler. If they cannot eat food as an adult, it is better to prepare for them in advance. Bring boiled water for making instant milk, if needed.
        2. The small motor fan to cool the baby down. Thailand weather is quite warm so it is better to be prepared to deal with the heat.
        3. Prepare medicine , sun block for small kids, and perhaps mosquito repellent (when travel outside Bangkok)
        4. Ziplock bags for keeping dirty diaper in case , you cannot find a proper place to throw it away.
        5. Baby wipes are also important to bring it along.
        6. Small toy 2-3 items
 I hope that I cover all importance necessary for making your vacation in Bangkok with your baby easy and make the trip enjoyable.
         If there are anything that you think can help us improve this content , drop us a line.