Many people interest to visit Thailand and stay on nice beach during holiday ,honeymooners too.  A famous beach destination is included Phuket, Krabi , Hua Hin , Phi Phi island, Koh Tao , Kho Phagnan and Koh samui. The beach in Thailand is Southern and Eastern part of Thailand.
Each destination can be a place for the perfect honeymoon. However, how to select the right destination is a big issue. So, let's start to find out more information.
·

     

A Guide for to visit Thailand Beach for your honeymoon
·

        

Recommend activities for honeymoon
A Guide for to visit Thailand Beach for your honeymoon
Where to go? How to select the right destinations for honeymoon? It depends on the time or period of visit. This is a destination and short description or its highlight. 
High season of Travel (November – February)
Phuket :  White sand, crazy night at Bangla, a lot of private beaches or less busy beach, connect to amazing place such as  the Similan and Surin Island  
Krabi : Rocky Climbing, Dining in the cave, Hong island for kayaking , Krabi is close to Phuket , yummy spicy food
Khao Lak : Long strength beach , very quiet beach
Hua Hin :  Palace on the beach , horse riding, Royal railway station , family friendly beach town
Koh Chang : exotic island , waterfall, fisherman village  , dent forest, extension to Cambodia
Green season (June – October)
Koh Samui :  Big Buddha, Namuang waterfall, Angthong marine National park , Lot of beach front villa , many small villa
Koh Toa :  Swimming with fish, the best viewpoint on the mountain , private beach resort
Koh Chang  (travel period valid till April)
All Year round Beach Destination
Pattaya : dynamic beach city , lot of man made sightseeing, Sanctuary of the truth, 2 hours ride to Bangkok   
Koh Samed : exotic island, 3 hours from Bangkok, white sand beach
Bangkok , Chiang mai and Chiang rai  , visitors can go any time.
.
Recommended activities for honeymoon
Talking about things to do for sweet honeymooners is really important too. Here is my topic.  
Romantic dining experience
Special event for surprise your partner
Cooking class experience
Massage together
Any main sightseeing such as temples, palace and one could recommend since it is a highlight. So let's get into detail
Romantic Dining experience
Romantic means characterized by the expression of love. The first thing anyone might think of is food.  We eat 3 times. But let's make one night so memorable and special.
Private dining on the beach, this could be arrange by luxury hotel. It is a great surprise for your loved one which normally started with sunset cocktails and tapas.
1 Thavornbeachvillage , Phuket , truly romantic experience and spend a night of your lifetime , lit candle , your toes in the sand and enjoy seafood dining.
2.Aleenta , Hua Hin ,  an exclusive barbeque or cocktail on the beach
3.The view resort , Thongson Bay – he settings of this beachfront restaurant offering a view to Koh Phangan – the dining is valid on special request only
4.Sala Phuket – Exclusive private beach front dining experience with customize menu and special wine of your choice.
5. H Bistro, is part of Hansa resort which is in the end of the Bophuts Fisherman village.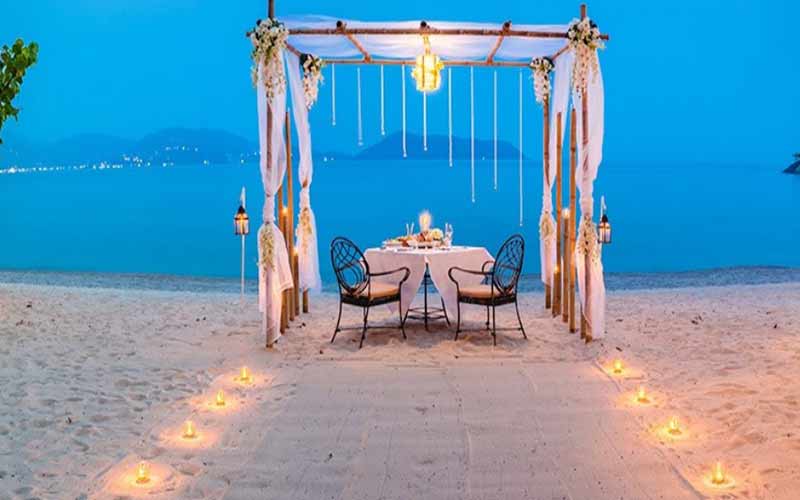 2 Extraordinary and unforgettable experience
1.The Giant , In Mae Kampong at Chiang mai . Enjoy stunning view of forest in Chiang mai.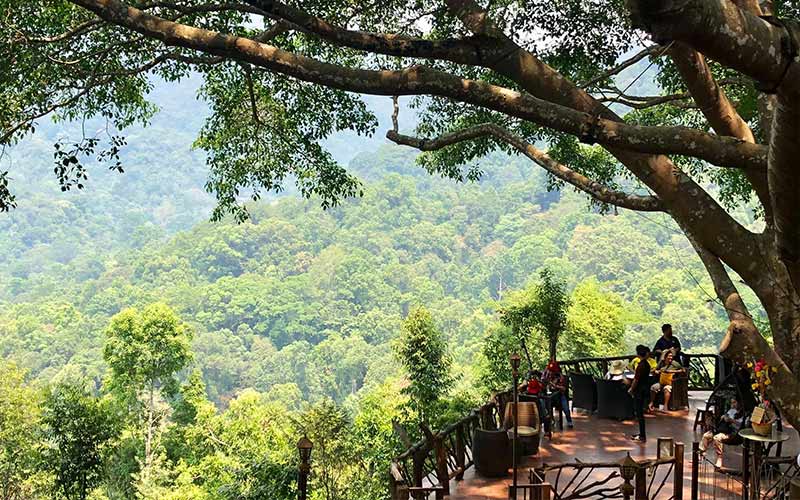 2. Koh Kood Tree pods, the dining set in bird nest a like seat to view Andaman sea while enjoy the meal. This dining experience has brought you back for childhood tree forts at the Soneva kiri resort.
3 Dining on luxury yacht which be arranged when you visit Bangkok, Pattaya or Phuket
4. Dining in the cave at a Rayawadee resort in Krabi
Balloon riding in Chiang mai
Several years ago, I arranged the balloon ride for a couple and the guy wanted to propose to his partner to marriage. It is a very important moment.
This is why I cheer up the activity. Imagine that you can view the Sunrise or Sunset with your love one. Once balloon slowly take off.  How amazing of the view and experience from the top view.  These experiences is around 250 USD / person.
Dress in Thai custom and get good photos for memory
There are simply activities such as get good pictures together in Bangkok or in Ayutthaya that you can do in one day trip. The tour typically includes a professional photographer in the package. It cost around 30-100 USD which depends on the service.
If you want to wear sophisticated Thai customer, you may consider hiring wedding studio to organize the trip with a selected location that you want to go. This is an idea for example
1.Picture on beach and mountain in Phuket or Krabi
2.Riding on an elephant back, the nice background is in Phuket or Chiang mai
3.Chinatown area in Bangkok has a lot of street painting
4.Chiang mai temple
5.Chiang mai Hill tribe village with mountain as backdrop
6.Phi Phi island or area with long tailed boat background
Wedding photos arrangement cost around 500-2000 USD which depends on location
If you want to hire professional photographer, I recommend to use location close to main destinations such as Bangkok, Chiang mai, Phuket or Krabi which is easy to access and not too expensive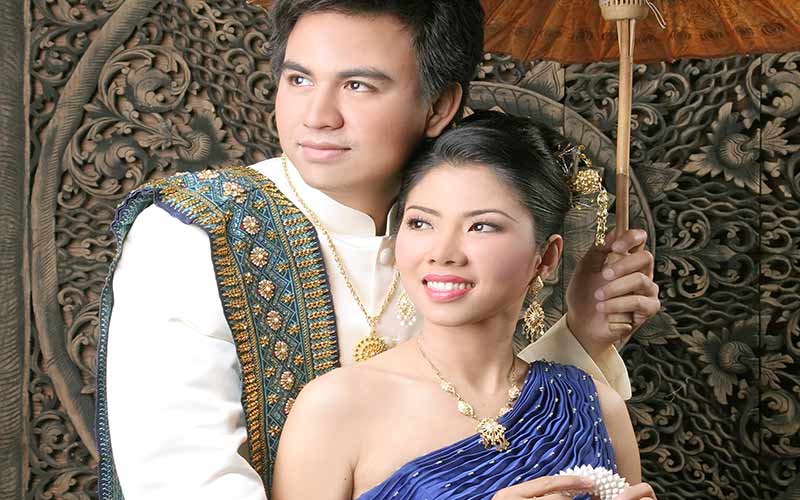 Helicopter tour in Phuket
There are private helicopter service in Bangkok, and Phuket that you can view a very nice landscape of the twos city.
See our Thailand luxury service.
There are a tour operator service for 10 minutes, 30 minutes, 60 minutes service to enjoy panoramic view of Phuket and Phang Nga bay.
Cooking class experience
The Thai Cooking class is very famous things to do for those who love to eat Thai food. It is a very gentle and indirectly tell your partner to cook for you after honeymoon.  Good idea right.
So many Thais cooking class lessen and price range is varying from 20-150 USD/Class /4 hours.
So what the cooking class to recommend.
It is a tough job for me. 
Why? First of all I know how to cook Thai food. Second of all, I do not like Pad Thai. Most cooking class offer Pad Thai  . Third, I can go to tripadvisor and pick some service, especially top service provide with top  ranking. But you know I do not want to do that since those top rank has more people review it does not mean the less review service provider is not good.
And I do not go all the service to select the best service for you. So I decided to recommend the one that I know in person and have some special style for you.
Small class cooking at The Myth Sud Sathorn , Bangkok
Learning how to cook royal recipe cooking class with a friend of mind. Find details in cooking is here. It is absolutely fun.
 My Thai cooking class, Bangkok
This cooking class has 3 classes, including private customize Thai cooking class, authentic Thai cooking class with a local market tour , and engaging hands-on cooking class. I like that they also have Thai dessert in menu and some food and decorated in Thai style.
Bai Pai cooking class , Bangkok
This is a place that has a nice ambient event. It is a little far from Bangkok, but they organize pick up service and I think the most impressive things is they have a Pad Thai cooking campaign there.
I think this cooking school that starts with taste, various Thai herb and sauces which can help you to understand how it taste like. Then, you know what is your favorite taste and know how to use it to suit your need.
Baan Hong Nual , Chiang mai
This small operator organizes private trips for cooking classes for affordable rates. They also have small herbal farm and go to market to buy all the cooking ingredients. This is an eye opening experience to see and pick the best ingredient for Thai food.  Sure, that event man can also cook here.
Thai Massage and Spa
Thai massage is a different pressure by masseuse body to stretching and relaxing the whole body. Local people believe this is a great relaxing and help for long term health benefit, especially help to improve range of motion and flexibility. The massage is including lowering stress, boosting energy and improve athletic performance.
Thai massage can cost about 8-100 USD/ Hour
Typically, massage shop on the street will charge 8 USD/ Hours.
However, you do not want your partner to experience those ambient right. If you want to experience differently and exclusive service, check out five star hotel services. This is a listing of Spa and massage service that is very special.
Banyan tree, Samui
As I know, the Banyan tree chain is the hotel brand that very focus in massage and spa. Signature treatment at hotel is Rainforest indulgence which can choose variety of hydrothermal experience such as rain walk, stream , shower , and sole therapy and vitality pool.
Panpuri Wellness
This is a wellness center in the City center of Bangkok one of the spas with Onsen service which can looks out over the bustling city.
Chi The Spa at Shangri La Hotel
Chi , the spa at Shangrila Hotel which use the best Asian massage techniques and this is one of the premier spa options.
The Oriental Spa
The oriental spa provides exclusive service within the oriental hotel in Bangkok. They combine skilled and experiences therapists offer a wide range of treatment which can help you fully rejuvenated and relaxing.
Thailand Honeymoon Summary
Do you get a better idea for Thailand honeymoon now? How do you like  . Anything that you like to know about Thailand honeymoon. But for now, I can think of Thailand honeymoon itinerary 7 days.
Cr :
https://www.aleenta.com/huahin/restaurants/private-dining/